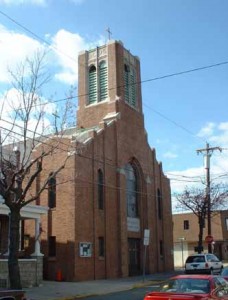 Love never ends; as for prophecies, they will pass away; as for tongues, they will cease; as for knowledge, it will pass away. So faith, hope, love abide, these three; but the greatest of these is love. (1 Corinthians 13:8,13)
St. Valentine's Polish National Catholic Church is located in Philadelphia, Pennsylvania at 2330 Margaret Street.
Liturgy is "the participation of the People of God in 'the work of God'"; it is the "exercise of the priestly office of Jesus" in which God is worshiped and adored and people are made holy. God begins the work of sanctifying people in time and space and brings that work to completion. Those who respond to God in worship and in service are given the privilege of becoming co-workers in the Divine plan. Please come and join us as Community of faith for Sunday Holy Mass weekly! Feel always welcomed and at home in our Church! Our Church is a home for all believers, from all ethnic and national backgrounds. We are one family of Jesus Christ, come and join us! For those with gluten allergy Gluten free Communion is available.
Holy Mass is offered on Sunday at 9:30 am. We have a regular schedule of liturgies, devotional services, and activities.
Our Parish is served by the Rev. Mariusz Mularczyk.
For more information or in an emergency please E-mail Fr. Mariusz or call us at 215-535-4978.
View our Blog for Announcements, Happenings, and Pictures.