St. Valentine's PNCC Flea Market & Polish Food Festival on Saturday, June 9th, 9 AM until 5 PM. One day only!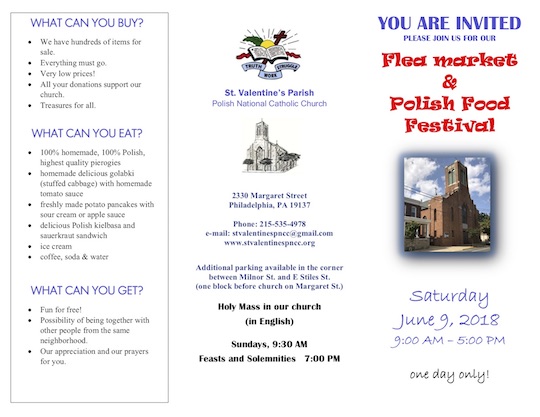 WHAT CAN YOU BUY?
We have hundreds of items for sale.
Everything must go.
Very low prices!
All your donations support our church.
Treasures for all.
WHAT CAN YOU EAT?
100% homemade, 100% Polish, highest quality pierogies
homemade delicious golabki (stuffed cabbage) with homemade tomato sauce
freshly made potato pancakes with sour cream or apple sauce
delicious Polish kielbasa and sauerkraut sandwich
ice cream
coffee, soda & water
WHAT CAN YOU GET?
Fun for free!
Possibility of being together with other people from the same neighborhood.
Our appreciation and our prayers for you.
Call 215-535-4978 or E-mail us for more information.
Additional parking available in the corner between Milnor St. and E Stiles St. (one block before church on Margaret St.)