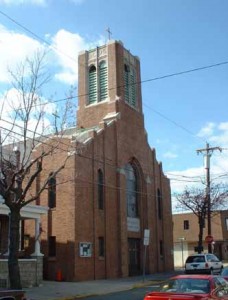 Love never ends; as for prophecies, they will pass away; as for tongues, they will cease; as for knowledge, it will pass away. So faith, hope, love abide, these three; but the greatest of these is love. (1 Corinthians 13:8,13)
St. Valentine's Polish National Catholic Church is located in Philadelphia, Pennsylvania at 2330 Margaret Street.
Holy Mass is offered on Sunday at 9:30 am. We have a regular schedule of liturgies, devotional services, and activities.
Our Parish is served by the Rev. Andrew Bilinski.
For more information or in an emergency please call us at 215-535-4978.
View our Blog for Announcements, Happenings, and Pictures.