Ś+P Rev. E. Owen Groman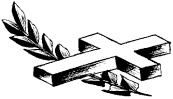 Rev. Owen Groman passed away January 14th, 2011; Funeral Mass in his memory: January 29th (Saturday) at 11 a.m. at St. Valentine's Church, following interment at St. Valentine's Cemetery in Andalusia, 875 Mill Road, Bansalem, Pa.
Fr. Groman was very well known among Polonia, especially as musican director of the "Janosik" dance group. May Your servant and priest Owen rest in peace O Lord!
From The Burlington County Times:
The Rev. E. Owen Groman, of Wilmington, N.C., formerly of Riverton, died Friday, Jan. 14, 2011.

A graduate of Palmyra High School, Rutgers University, the Savonarola Theological Seminary in Scranton, Pa., and the Episcopal Divinity School in Cambridge, Mass., the Rev. Groman served as pastor of several parishes and missions throughout the eastern United States for more than 30 years, in both the Polish National Catholic Church and the Episcopal Church.

He was preceded in death by his father, Edward. He is survived by his wife, Joanne, of Wilmington, N.C.; daughter, Marcyanna of Frostburg, Md.; mother, Wanda Groman of Riverton; father-in-law, Joe Samarra of North Carolina; sister, Victoria Kristian of Pennsauken; brother, Mark Groman of Delran, several cousins, nieces and nephews; and many close friends and professional associates who valued his capacity for compassion and understanding.

Relatives and friends are invited to gather at 10 a.m. Saturday at St. Valentine Polish National Catholic Church, 2330 Margaret St., Philadelphia, where the funeral Mass will follow at 11 a.m. Interment will be in St. Valentine Cemetery, Andalusia.

Arrangements by the Slabinski Funeral Home, Philadelphia